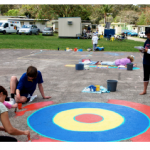 How do we build strong, resilient, sustainable communities? How can we make sure that the communities that we live in and work in are vibrant, innovative and full of life?
How can we ensure that our communities are just, fair, equitable and strong in the face of so much global change? Where do we start in our own communities to make a
difference, to make a change towards building the sorts of community we'd like to live in, raise our families in and grow old in?
Continue reading →